Biography of Femi Anikulapo Kuti
The son of Afro-beat legend Fela Anikulapo-Kuti, Femi Kuti spent years playing in his father's band before eventually rising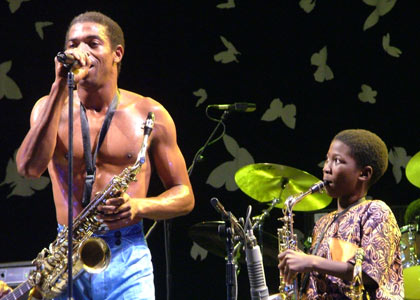 to superstardom following his father's death in the late '90s. Since few artists can match his father's legacy of not only music but influence, Femi's relation as his son is both a blessing and a curse. On the one hand, it's never been difficult for Femi to garner press or attention, and MCA went out of its way to push his career with ridiculous amounts of publicity. Yet on the other hand, no matter his individual accomplishments, Femi will forever be known as Fela's son. Practicing a similar style of Afro-beat as his father, Femi helped introduce the percussive blend of jazz and funk music to the international masses beginning in the mid-'90s, along with his father's same sense of political activism. After his father's death in 1997, Femi suddenly found himself the subject of immense attention. He responded by signing with MCA and embarking on his solo career beginning with Shoki Shoki. He won tremendous critical celebration around the world and began making efforts to break into the U.S. mainstream in successive years.
Born in London and raised in Lagos, Nigeria, Femi's musical career started when he began playing in his father's band, Egypt 80. In 1986, Femi started his own band, Positive Force, and began establishing himself as an artist independent of his father's massive legacy. In the mid-'90s, Motown offered him a record deal with its boutique label, Tabu. Femi's eponymous debut album resulted. Released in 1995, the album won praise throughout Europe and Africa for offering a more strea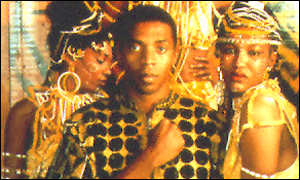 mlined and accessible version of his father's music. Femi embarked on an extended promotional tour, crossing first Africa, then Europe in 1996 and 1997. His solo career was off to a successful start, despite the dissolution of Motown's Tabu label and Femi's record deal with it.
However, this problem became the least of Femi's concerns when his father sadly died of AIDS-related complications in 1997. Shortly afterwards, his sister, Sola, also suffered an untimely death, making 1997 a truly dark year for Femi. He would later write "'97," a song that candidly reflects on this particularly tragic time. Yet with tragedy comes opportunity in the world of music, and Femi ultimately signed a major-label record deal with Polygram in December 1997, only months after his father's death. MCA made the most out of the situation, repackaging, and re-releasing much of Fela's catalog and setting the stage for Femi's MCA debut album in the process. Following months of press and hype, MCA released Shoki Shoki in early 1999 to widespread acclaim from a number of esteemed publications like the New Yorker, Rolling Stone, and Vibe, not to mention other smaller publications.
A year later, Femi returned with his second album, Fight to Win, and toured the States with Jane's Addiction in an effort to crossover to a more mainstream audience. Part of this crossover effort meant aligning himself closer to hip-hop and its gigantic audience. Fight to Win featured a number of respected rap artists like Mos Def and Common. As expected, critics celebrated the album, though western masses seemed rather indifferent to both the album and Femi's concert trek with Jane's Addiction. ~ Jason Birchmeier, All Music Guide