Backstage interview with Seun Kuti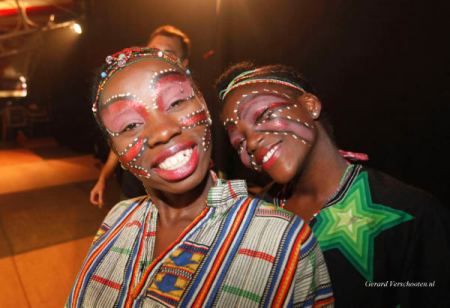 Hot and thirsty I walked the festival grounds to the backstage area. A lot of noise was coming from the two tents for the band. In one tent Seun, still in his bare chest, was loudly congratulated by band members and non band members. Some band members were changing clothes while others passed around plastic glasses filled with Irish whiskey. Seun remarked to his crew that "those people had the feeling for African rhythm". I couldn't have heard a better compliment. The band also talked about the hippie that danced on the stage. "Who was that guy?" someone asked. "I don't know, but he sure had rhythm" someone else said. I also talked to some of the musicians in the other tent. I asked them if they played with Fela in the 1980's, because we would have seen each other back then. They said they did, but didn't remember the particular venue. When Seun was dressed we sat down for our short interview. The band had to eat and I had to catch my train so we didn't have that much time.
Julio Punch: Seun, I see that you and the band are on a very busy touring schedule while most of the members of the band aren't that young anymore. Is Afrobeat Music the fountain of youth?
Seun Kuti: I think that good music will generally do that. It makes you stay young. Performing is like an exercise. Music is good for the soul. Many of the guys in the band are pretty old, but they're great musicians and they rock.
JP: Do you perform at The Shrine?
SK: I perform at The Shrine one time each month. When I'm in Nigeria I try to use our time as rest time for the band. I perform at The Shrine every last Saturday of the month.
JP: Do you have family members playing in the band?
SK: My sister used to sing in the band, but she left because she's in her last year in University now. The other Kuti is a cousin from my mother's side. I am musically related to the whole band. I cannot distinguish between my family and the band.
JP: What are your plans for the future?
SK: I like to take one step at a time. The world is a small place. Now we're living with the credit crunch and who knows what will happen next.
JP: What kind of music have you been listening to lately?
SK: I just bought Eminem's new album. That man is so funny. It's a great album.
JP: Would you ever consider collaborating with Hip Hop artists like you brother Femi did on his Fight to Win album?
SK: If the situation presents itself, but it's not a priority for me right now.
JP: Do you listen to your dad's albums often?
SK: Of course, I listen to them a lot.
JP: Do you have a favorite song?
SK: I have two favorites "Look and Laugh" and "Original Sufferhead". I can never choose between these two songs!
JP: Do you have an explanation for the current resurgence of interest in Afrobeat Music? For instance, there's not much interest in Juju Music which is also from Nigeria.
SK: It's the message and the originality. It has universal appeal. It's something people can relate to.
JP: Some people nowadays regard Fela as a prophet. What do you think about that?
SK: First of all, he was the Chief Priest of The Shrine. But I don't believe in prophecy.
JP: But Yar'Adua, for instance, who was targeted in many of you dad's lyrics, is now President of Nigeria.
SK: Once again, I don't believe in prophecy. But my father was a good observer and he must have seen the inevitable outcome. Nigeria is run by the Mafia; I mean it's really the Casa Nostra that's running the country.
JP: I read in John Collins' book that Fela had a large library. Did you ever see it? If so, what kind of books did he read?
SK: Yes, he had a big library filled with books about African history, religion and politics.
JP: Do you work out or do sports?
SK: Yes, I play a lot of Football when I'm at home.
JP: Ah, Soccer is very popular here.
SK: No, I mean American Football, not Soccer. I think they should call Soccer Football because you only use your legs.
JP: Of all the memories of your dad, which memory stands out in your mind the most?
SK: Living with his presence every day. It is twelve years ago now that I lost him, and it's his presence that I miss the most.
JP: If there will be a free and united Africa in the future, will there still be a role for Afrobeat Music?
SK: (grins) There will be a role for Afrobeat Music in Africa for at least the next 200 years. In fact, there will always be a place for Afrobeat Music. It's for the common people, and it's their weapon.
JP: Is there anything else you would like to tell your fans?
SK: Live your lives as part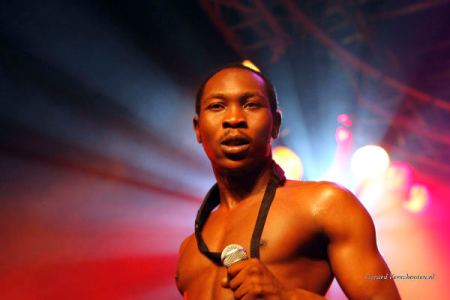 of the solution, that's what I always say.
I thanked Seun for the interview and said "I have brought a small present for you". "Is there such thing as a small present?" Seun asked. "Well, let's call it a big present then" I replied. I gave Seun an instructional Martial Arts DVD called "Advanced Combat". I said "I hope you like it, it's a Martial Art from Indonesia with a unique way of moving". "Is this what you do?" Seun asked me. I tell him that I don't but train different sports almost every day. Seun started to roll a joint. I asked him if he was smoking Dutch grass. "Yes, this is from here". I asked him if it was any good and he said yes again. Seun and I shook hands and I said I hoped to see him next time. As I made my way out several band members greeted me. The sun was on its way down and I was on my way to the train station. Tired and satisfied at the same time I was thankful for a rebirth of Afrobeat Music that would have made its creator proud.
Listen to an audio interview with Seun that was conducted on the festival grounds.
Text, copyright, Julio Punch, 2009. Pictures: Gerard Verschoten.