"I am in control of the beat"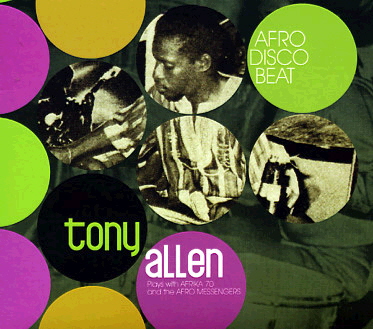 After the gig most of the crowd goes their own way while others have another drink and chat at the bar. The sound crew starts packing things up. After having had to wait for some time, I'm finally led upstairs to a small room which is, apparently, a free zone in a non-smoking building. Sitting there on a black wooden chair in worn clothing is the master himself. Ruth Tafebe of the Afro Rockers is also present. I sit down and get out my pen and notepad.
Julio Punch: Tony, there's a resurgence of interest in Afrobeat music globally and with your last two albums you've returned to your Afrobeat roots. Was this a conscious choice?
Tony Allen: Yes.
JP: OK. Now for the uninitiated, how would you describe Afrobeat music?
TA: It's a combination of everything. Jazz, funk, African music. It all depends on the part I play. I can teach any drummer to drum, but whether he can play it fluently is up to him. He can follow me visually, but that's no guarantee he can do it himself. Many things I cannot explain. My drumming is kind of trickish. The way I feel it is the way I drop it.
JP: I wanted to ask you about your drumming. Were you born with this ability or was it a discovery you happened to chance upon?
TA: I never learnt it. It's my own creation that came about in the process of making myself out of sight. I learnt to play like others. Famous Jazz drummers from America. I can never be them. I can only be me.
JP: You played in The Good, The Bad and The Queen. Is this project now finished?
TA: Yes, I'm working on new projects now.
JP: How was the experience for you to work with Paul Simonon and Damon Albarn?
TA: It was a nice experience.
JP: Of all your experiences with Fela which one stands out most in your m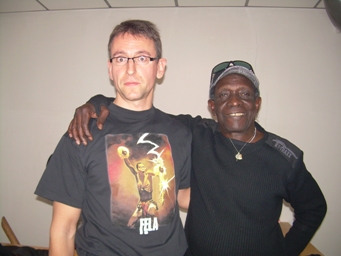 ind?
TA: It's difficult to say. I wasn't establishing anything except music. I'm not a politician, I pass on messages. Fela enforced his policies, I don't do that. I pass messages to the common people and to everybody.
JP: Do you have a favorite Fela Kuti album?
TA: Too many. Fela was a good writer.
JP: Are you still in contact with Fela's children?
TA: I see Seun more than Femi. I played drums for Seun a few times. I do it, as long as he plays Fela's songs. Seun and I are often lined up together at festivals.
JP: Are all the members of the band from Paris, where you currently live?
TA: Yes, all of them are from Paris.
JP: What kind of music do you listen to yourself?
TA: Everything! People send CD's to me all the time. Many of them are still in plastic. But it's my job, so I listen to music every day.
JP: I heard you wanted to make an instructional DVD about Afrobeat drumming. How's that developing?
TA: It never took off. Do you think it's a good idea?
JP: Sure, nowadays many drummers in rock bands are just hitting the skins like "bang, bang, bang". People would benefit from the DVD.
TA: I agree, I think it would be good for me to pass on my knowledge.
JP: You still use the Pidgin language in your lyrics. Do most of the people in Nigeria speak it or do they speak English?
TA: Most of the people in Nigeria speak Pidgin. They don't understand the grammar. English grammar is for the British and Americans.
JP: Do you visit Fela's grave often?
TA: I was the one that showed the land to him where he is buried. He is buried in a tomb in the form of a pyramid. I pass there every time I go to see Seun.
JP: Did you live at the Kalakuta Republic when you were drumming for Fela?
TA: I never lived at Kalakuta. None of the musicians did. Fela lived there with his "boys", his bodyguards and his wives, of course.
JP: How did you get to work with Fela?
TA: I auditioned for Fela's band. Fela was working as a radio broadcaster back then. After the audition he asked me "Where did you learn to drum like that? America? Canada? England?" I said "I never moved my ass out of this country". Fela said: " We have to work tog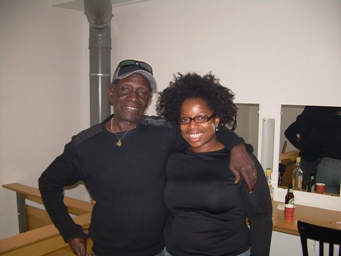 ether".
JP: Do you have a message for your fans?
TA: My regards to all of them. I wish them a good continuation following my inventions. I will make sure I will never bore them. I have played everything, from Techno to Hip-hop. I am in control of the beat. I get bored if I don't change things up.
Tony finally lights up the joint he's been rolling. "Everytime I go to Amsterdam or the Netherlands I smoke my ass off" he remarks laughingly. "You were in the front taking pictures, weren't you?" he asks. "Yep" I reply. "I saw your Fela shirt and thought: this guy must understand what we're doing." We take some pictures, Ruth gives me her CD and e-mail address, then I have to dash out of the building to catch the last train. Mission accomplished!