Tony Allen: An Autobiography of The Master Drummer of Afrobeat by Tony Allen and Michael E. Veal
The late Fela Kuti wasn't quick to credit other musicians, but when he said "There would be no Afrobeat without Tony Allen" he meant it. It was Fela who composed the often lengthy melodies, transcribed those scorning lyrics and wrote the parts for every musician in his ban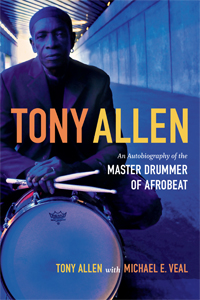 d. All but one, that is. That one exception was his drummer Tony Allen, who was responsible for the rhythmical component of the musical phenomenon we know as Afrobeat. In some ways Tony Allen was the opposite of the flamboyant Fela. Fela was very much the front man. He liked attention and was very outspoken. Allen , however, was the "yin" part of the Afrobeat equation. Small of stature and often hardly discernible behind his drum set, he brought us the beat in Afrobeat. Making use of a subtle, but highly complicated and inimitable, style of drumming.
After 50 years of playing music, of which 15 were spent working with Fela Kuti, Allen bring us his inspirational biography. Written together with Michael Veal, author of Fela Kuti's biography, this is the most accessible Afrobeat book of them all. Allen recounts his younger days and starting to use traditional African rhythms on a Western drum set. His days with Fela take up the greater part of the book. Although Fela's erratic behavior eventually led Allen to leave Africa 70, both men stayed friends and the mutual admiration for each other's musical skills remained. In recent years Allen was back in the spotlight with projects like The Good, The Bad and the Queen, Rocketjuice to The Moon and he is, of course, still performing live with his own band regularly. This biography never misses a beat, like one of Allen's hypnotic drum patterns it will suck you in to the very last page. Contains a discography and 31 photographs. Highly recommended for anyone with an interest in the history of West-African popular music.
NEW! S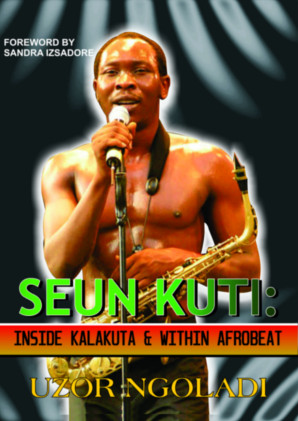 eun Kuti: Inside Kalakuta and Within Afrobeat by Uzor Ngoladi
The last few years several books have been published that give us insight into life in the Kalakuta Republic. But unlike John Collins who spent a few weeks there or Majemite Jaboro who spent a few years there, Seun Kuti lived there for 27 years. He was practically born into the Egypt 80 band as the child of the lead singer and one of it's back-up singers. Seun started out singing for Egypt 80 at the tender age of nine. In "Seun's Secret" he reveals all the inside information about Afrobeat one could ever ask for. Growing up in the Kalakuta Republic as the son of a legend, touring with Egypt 80, it's all there. You can buy the book at Mary Martin Booksellers or the digital version.
Fela This Bitch of a Life: The Authorized Biography of Africa's Musical Genius by Carlos Moore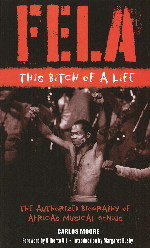 When this book first got published in 1982 it was the first biography of an African musician. The above title is in fact a translation of the French book "Fela Fela: cette putain de vie". For a very long time this was the definitive book on Fela Anikulapo Kuti. It describes his youth, his spiritual awakening when exposed to the Black Power movement while touring in the US and his many run-ins with the authorities. The book is 288 pages long and nicely illustrated with pictures of Fela and his wives and some traditional African art. An entire chapter is reserved for interviews with several of Fela's wives or "Queens". Some of these interviews are in Pidgin English and might be difficult to follow for those not accustomed to the language. Fela's wives worked as back-up singers, dancers or DJ's in The Shrine, his night club in Lagos.
Carlos Moore is a Jamaican Cuban. He is best known for his book "Castro, The Blacks and Africa". Although certain scholars view some of his statements with skepticism, "Fela This Bitch of a Life" is a fine piece of music journalism. This book is reissued as of May 2009. The book has recommendations by Stevie Wonder and Femi Kuti. Check your local book store for this title or order from Amazon.co.uk.
FELA: Th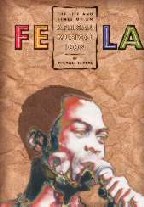 e Life & Times of an African Musical Icon by Michael A. Veal
This is probably the closest we will ever get to the complex character of the most controversial musician ever to come from African soil: Fela Anikulapo Kuti. Michael Veal is without a doubt the perfect candidate for writing Fela's biography. He is an ethnomusicologist from Yale University, has played as a guest saxophonist in Egypt 80 and has spent considerable time in The Shrine. In more than 300 pages he follows Fela's life in intimate detail. All aspects of his life are covered, including his strict upbringing, his political "awakening" and the creation of Afrobeat. Detailed explanations of Afrobeat music and its lyrics are included. Also included are a discography and 22 pages with photographs. This is the definitive biography of Fela Anikulapo Kuti, pronto. Heads up for Michael Veal for getting us backstage with "The Black President"!
FELA: From West Africa to West Broadway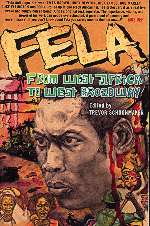 by Trevor Schoonmaker (editor)
A complex figure should always be viewed from different angles. Rather than a chronological biography, "Fela: From West Africa to West Broadway" is a collection of essays and interviews that zero in on different aspects of the complex persona that was Fela Anikulapo Kuti. These include essays on Fela's spirituality, his relationships with women and his ongoing influence on Hip Hop and Dance music. There are interviews with Fela himself and his son Femi. The essays are all well written. An extensive discography is also included in the book. The essays were collected by Trevor Schoonmaker, an independent curator from Brooklyn, New York. Trevor Schoonmaker is the director of the Fela Project and organizer of "Black President: The Art and Legacy of Fela Anikulapo-Kuti". An exhibiton that traveled the world from 2003 to 2005. 208 pages, 20 pages with photographs.
Fela: Kalakuta Notes by John Collins
"Fela: Kalakuta Notes" is not a biography that describes the life of it's subject from the first moment to the last, but rather a collection of essays, diary notes and interviews (most of them conducted around the last turn of the millennium) to highlight the life and works of one of Africa's most brilliant, and controversial, musicians. Fela Anikulapo Kuti was a musician, political activist and the creator of Afrobeat. A musical genre that, as Collins' book clearly shows, is alive and well though its founder has been dea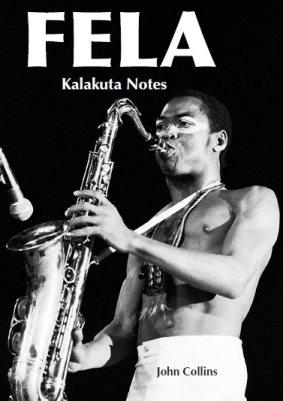 d for more than a decade.
Author John Collins is sometimes described as a "white African" and was a close friend of Fela Kuti. His music résumé consists of an incredibly long list of co-operations with several dozens of African music groups. Not only does he play music, being a professor of Music at the University of Ghana, he understands the theoretical side of music as well. This is evident from the two interviews in the book that try to explain the musical structure of Afrobeat.
This is the first book about Fela Kuti written by someone who actually lives in Africa and provides many insights not found in the other biographies. A major theme in this book is Fela Kuti's Ghanaian connection. First and foremost, it was the home of his political idol, the late Kwame Nkrumah. But it was also the main source of the Highlife music the young Fela Kuti loved and started playing.
Another unique aspect is Collins' diary of his stay at the Kalakuta Republic, Fela's commune in Lagos, the first to appear in print. Without reverting to a Sex & Drugs & Afrobeat eulogy his diary describes life in the hippie-like commune ruled by the authoritarian bandleader known for his anti-authoritarian lyrics. From the notes, essays and interviews there slowly emerges the immensely fascinating large-than-life portrait of a unique man, enigmatic, charismatic, controversial and a 100 percent dedicated to the ideals he believed in.
The book is printed on thick paper, illustrated with never before seen pictures of Fela and his wives and band by several well known photographers, the print is nice and big and makes up for the few typo's I found here and there. The book contains a complete biography of Fela's songs and an overview of bands and artists playing Afrobeat music worldwide. This is the ultimate Afrobeat coffee table book and should be owned by all fans. You can order your copy from KIT Publishers in Amsterdam, the Netherlands (ironically the city where the author met Fela Kuti for the last time) or order from Am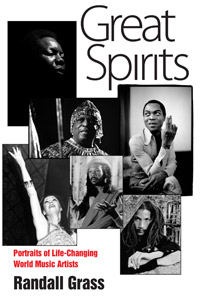 azon.com.
Great Spirits: Portraits of Life-Changing World Music Artists by Randall Grass
Great Spirits host essays about the true giants of World Music: Sun Ra, Bob Marley, Nina Simone, Augustus Pablo and, of course, Fela Kuti, the famed creator of Afrobeat. Randall Grass (his name seems appropriate!) was lucky enough to have been able to befriend and work with all the above named giants. In his chapter on Fela he recounts getting to know him, Fela's strange way of handling his business in relation to the record companies and reviews a Fela gig in the US with none other than Sun Ra in full regalia in the front row! The other chapters in the book are also fascinating and packed with interesting information. This is a truly great overview of the stars of World Music. Like a reviewer justly claims on the back cover: "Ain't nothing around like them these days!"
Kalakuta Diaries by Uwa Erhabor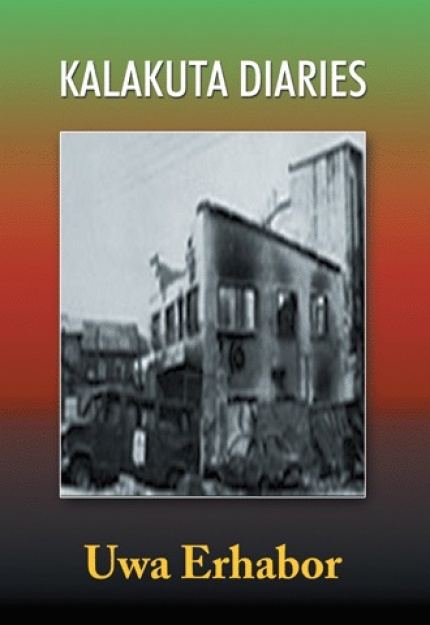 Kalakuta Diaries is a personal Narrative of events and characters that propelled and defined an African Social-political setting in the heart of Lagos Nigeria. Kalakuta was a creation of an Iconic rare-breed par excellence, whose enduring legacies has left an indelible Footprint in the sands of Africa and the World's political times and consciousness. This narrative apart from the well known battles against the establishment, is also an attempt to emphasise the roles played by the different characters that shaped the actions and policies of a Die-hard Pan-Africanist, who had an uncanny ability to read and predict exactly, outcomes of diverse political and economic actions of the ruling Elite' years ahead of most of his fellow countrymen. The author's account conflicts with those of others at some points.
The Ikoyi Prison Narratives: The Spiritualism and Political Philosophy of Fela Kuti by Majemite Jaboro
With the plethora of books available about Fela's life you would think that just about every aspect of his eventful life has been covered. But there is one central aspect of his life that, until now, was only alluded to in th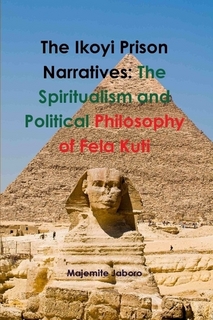 e biographical works. It was shown in the documentary "Music is The Weapon" that Fela performed religious rituals in The Shrine and that he surrounded himself with African mediums that contacted the Spirit World. From the name of his backing band we know he had a preoccupation with ancient Egypt. If you weren't a resident of the Kalakuta Republic it would be difficult to know how all these elements tied in with each other.
Majemite Jaboro spent several days in a Nigerian prison cell with Fela Kuti and several of his band members. To pass time Fela recounted his life story, this narrative is the basis for this book. The book starts with a short bio of Fela up until the point that Jaboro became his Personal Assistant and later Shrine Priest. He goes into great detail describing Fela's religious and political worldview and everyday life in the Kalakuta Republic. He sums up the esoteric books Fela was reading. He concludes with describing Fela's final days suffering from Aids, and his funeral.
If you're new to Fela this is definitely not the book to start with. Fela's autobiography and several of the other books on this page give a much more balanced view of Fela's life. The two drawbacks of the book are that, first of all, it could have done with some editing. And secondly, you have to be a bit of a Felaologist to be able to follow the narrative and know the names of Fela's numerous (ex-)wives, children and band members.
My Bla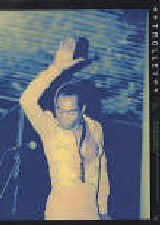 ck President by Femi Bankole Osunla
This book features the photographs of Femi Bankole Osunla. Osunla spent 20 years photograping Fela Kuti both at home and on tour. Regretfully, Femi Bankole Osunla passed away in 2007. This is the reason why this book won't be published anytime soon. The publisher let me know that they will try to publish the book some time in the future. I will post up information on this site if/when the book gets published.

Finding Fela: My Stange Journey to Meet The Afrobeat King by Dan Dinello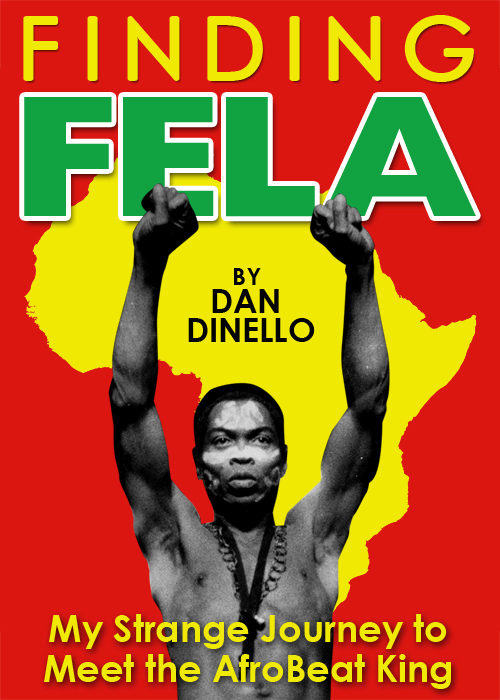 Dan Dinello recounts his journey to Lagos, Nigeria in 1983 to meet the King of Afrobeat. Landing on Lagos ground with the intention of filming one of Fela's famous gigs at The Shrine, not everything goes as planned. Confronted with Africa's bureaucracy, poverty but most of all his own insecurity the author struggles to realize his dream. This 12 chapter e-book of 20 pages is a fun read with insights into Nigeria that even now, almost 30 years later, should seem familiar to people who have followed the recent events. The short movie can be found on YouTube and is called "Lagos Jump – Visit to Fela's Shrine". The E-book can be ordered online from Smashwords.com.