Finding Fela
For those that followed Fela Kuti during his lifetime, we would never be surprised to hear him pop-up in c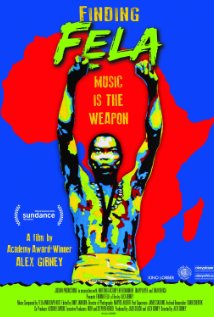 ertain places after his passing. Sampled by your local DJ or in a music store downtown. Though Fela's love for the limelight was immense, not many of us expected him to pop up in a broadway musical. But that's how it went. The Fela! musical was immensely entertaining, but couldn't provide the essentials of the man and what made him tick. Therefore Alex Gibney, documentary maker par excellence and maker of documentary's on iconic figures like James Brown and Lance Armstrong, made the documentary that runs parallel to the quest of the musical in trying to find the essential Fela Kuti. Not an easy task with such a turbulent life and a complex personality. The documentary is two hours long and comparable to Kevin MacDonald's Marley in quality. You could probably make a 12-hour documentary detailing Fela's life in all its aspects, but for the time being Finding Fela is the ultimate documentary on Fela Kuti. I was amazed at how much footage of Fela the filmmakers had dug up. I would recommend die-hard fans to watch the doc multiple times, the pace is quite fast and you will certainly miss a thing or two with only one viewing.
The extra's include: Femi Kuti's sax solo during the performance of the Fela! Musical in the Africa Shrine, Lagos. 26 minute interview with Alex Gibney. 10 minutes of extended interviews. Finding Fela is available worldwide from Amazon, iTunes or your local music store.
Fela in NYC: Fresh from Africa
During the fall of 1986 newspaper headlines all over the world told us that Afrobeat creator and political prisoner Fela Kuti was released from jail. Not only was the world excited to be able to hear him play music again, but joyful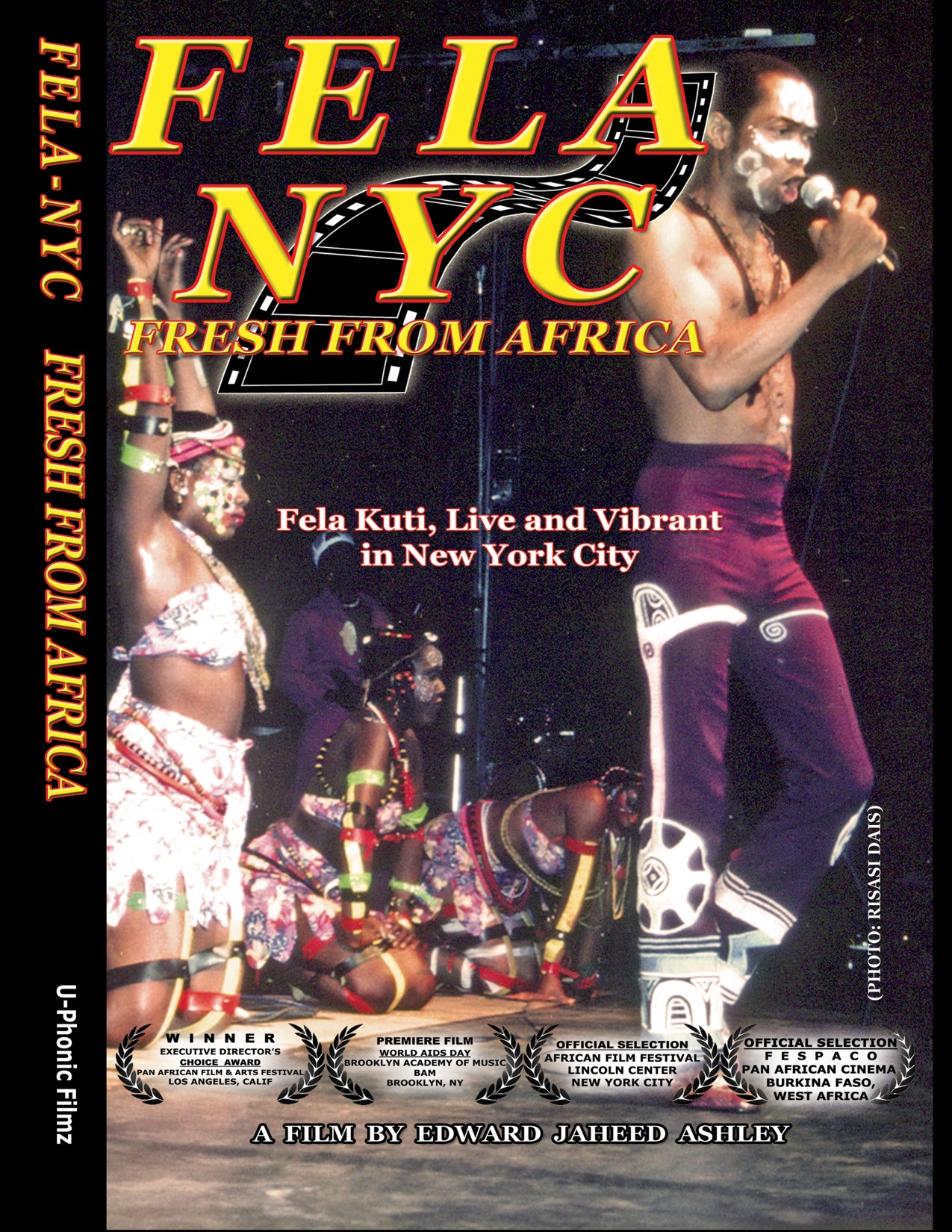 as well that the efforts of organizations like Amnesty International could make a difference in the international political arena. Shortly after his release Fela participated in a huge festivity organized by Amnesty alongside Bono and Carlos Santana. For the first time in 17 years he was back in New York, but this time was different, this time everything was put down on tape. Director and producer Jaheed Ashley synthesized the 10 hours of film reels that were stored in a vault and meant to be destroyed into this movie. From the press conference in the Big Apple where he expounded his political idea's to the reception in Harlem, from the gig he gave some months later with his outfit of 40 plus people to the after party. Just about every Afro-American luminary in the New York area, from Don Cherry (Neneh Cherry's father) to jazz giant Roy Ayers, came and paid respect to the one and only Fela. Keep in mind this was before the Internet or Broadway, in a time that the charts were dominated by artists like Cindy Lauper and Phil Collins.
In this 97 minute long movie we see Fela taking his time for each and every fan to talk to them and sign posters, Fela watching a television documentary on Jazz legends Miles Davis and Charlie Parker, Fela joking and smoking on the couch with friends, Fela donning on the white face paint that enabled him to contact the Spirit World while a four year old Seun Kuti plays at his feet and, probably the most fascinating, Fela teaching a interim organ player how to play his songs dressed only in his underpants! Included also is footage of Fela anointing the baby son of the movie's narrator Peekoo A. Lewis and a video shot from the crowd of his gig.
Sahr Ngaujah impersonating Fela on the Broadway stage is great, Seun Kuti performing his father's songs with his father's band is better yet. However, nothing can compare to the real Fela. And this movie is as close as most of us are going to get to him.
You can order your copy of Fela NYC: Fresh from Africa at www.paff.org.
Fela in Co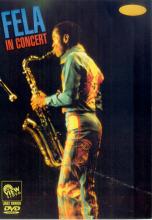 ncert
This DVD is a unique document of a unique man and musician. This is the correct track listing:
1. Movement of the People Political Statement Number One
2. Army Arrangement
3. Power Show
These songs were filmed at a concert in Paris on June 30, 1981. True, it's not without its flaws: it's not quite up to DVD standards soundwise, though the camerawork is pretty decent. The worst thing is that you're not getting the entire songs. "Power Show" has no vocals and if you have the "Live in Amsterdam" album Movement of the People Political Statement Number One was a lot longer with Fela doing his famous "underground spiritual game". It's a shame this was left out, as I suspect it was. The best thing about this DVD is the close-up shots of Fela's amazing dancing wives during Army Arrangement. The other Fela DVD available, which is at present very hard to obtain, called Fela Live focuses too much on Fela and less on his dancing wives though it has better sound quality. And if you ask yourself which of the two you should buy? True fans should buy both.
Fela Live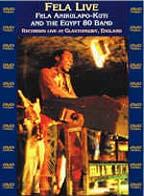 This is a concert performed by Fela in 1984 at the famous Glastonbury Music Festival in the United Kingdom. It was broadcasted by the BBC several times in the 1980's. The DVD also contains a laid back interview with Fela. The concert consists of two songs: Confusion Break Bone and Teacher Don't Teach Me Nonsense. The first song is, as always with Fela, a warming-up. This might be the only footage released of Fela doing some percussion. The real gem is Teacher Don't Teach Me Nonsense with the "Dancing Queens" doing their famous dancing routine towards the end of the song. The crowd seems to be really getting into this song. The sound quality of this DVD is pretty good. The camera focuses on Fela a bit too much for my liking. The director of the footage also directed stuff by the Rolling Stones so I guess he's used to concentrating on the front man.
Fela Kuti: Mu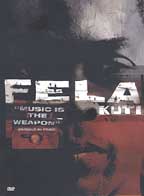 sic is The Weapon
With the destruction of the sound to the Black President film during the attack of the Kalakuta Republic in 1977 this is the only documentary about Fela Anikulapo Kuti. It was filmed in Lagos in 1981. The DVD contains both the French and the English versions of this documentary that was directed by Stéphane Tchal-Gadjieff and Jean Jacques Flori. The two versions are slightly different so it is advised to watch both. Meet up with Fela in the Kalakuta Republic and hear him discuss life, politics, music, women, religion and much more. Unique live footage from The Shrine is alternated with the interviews. The DVD contains pieces of live versions of Army Arrangement, ITT, Power Show and Authority Stealing. This DVD is a must for anyone interested in "The Black President". The length of the documentary is 53 minutes. There are no extras.
Teacher Don't Teach Me Nonsense
Although Music is The Weapon is generally viewed as the definitive documentary on the life and music of Fela Kuti, Teacher don't Teach Me Nonsense is a high quality documentary from 1985 that contains both an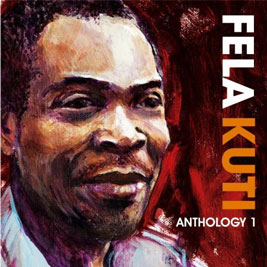 up close interview with the creator of Afrobeat and fragments of his legendary gig at the famous Glastonbury festival in the year 1984. This documentary is available as part of the first part of a Fela Kuti Anthology detailing his entire musical career. Two more installments will be released.
Fela seems calmer and less militant as in Music is The Weapon, but tells us interesting stories about his use of Pidgin (Broken English) for his lyrics, his spiritual awakening through contact with the Black Power movement in the US and the corruption in Africa he so vividly denounced. The film is about half music and half documentary. The documentary is interspersed with fragments from the gig beginning with Teacher Don't Teach Me Nonsense and then Confusion Break Bone (they were performed at the festival in opposite order). There is English subtitling translating Fela's pidgin. So this DVD is at present our only chance to catch footage on DVD of this gig of Fela and his Egypt 80 at his/their prime. The only known footage of Fela performing percussion, which is still the heart of African music, is included.
As expected the BBC dug up some interesting old footage from their dusted shelves that includes speeches by Martin Luther King and Malcolm X that accompany Fela's story. "Teacher Don't Teach Me Nonsense" was shown by the BBC just after Fela's famous prison sentence in 1984 and may have played a part in his release through influencing public opinion.
Fela Live in Berlin
The DVD, that comes with the Fela Kuti Anthology part 2, features the opening act of the prestigious Berlin Jazz Festival of 1978. It was broadcasted both on German television as well as live on Nigerian television. This is a transfer from old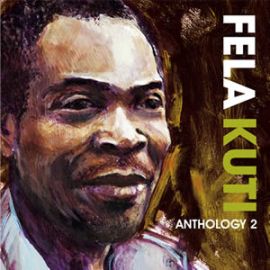 television material to DVD. That being said, I think it's the best live footage of Fela Kuti on DVD I've ever seen (and I've seen it all). You get an excellent view of the musicians and back-up singers as well as of Fela. The sound quality is everything you could ask for of a transfer to DVD.
This is a seated gig and the band is completely surrounded by public. The festival is kicked off by a man giving an introduction in German with no subtitling provided. Then Quincy Joppes introduces all members of the Africa 70 band including a youngish looking Tony Allen and Lekan Animashuan (still playing in Egypt 80 today!). After a Black Power salute the band plays four songs, lasting almost 90 minutes in total.
We all know Afrobeat is a male dominated music style. But the true gem of this DVD are Fela's Dancing Queens who appear during the last song. Seeing these traditionally clad African ladies move their bodies to Fela's sax solo's and Tony Allen's drum solo's is going to blow your mind, as it has blown mine. Every one of the seven dancers featured has her own unique style of dancing and some of them make such sexual movements that I'm surprised the footage wasn't censored by the German television! The only con of the dvd is that the credits appearing at the end and obscure the dancers for about a minute or so. So yes, the ladies steal the show!
Femi Kuti - Live at the Shrine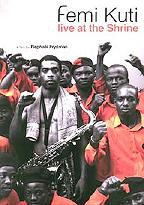 The saying "like father, like son" takes on a totally new dimension with this fantastic DVD. Femi Kuti, Fela Kuti's eldest son and his successor as the king of Afrobeat is like his father in many ways. He uses his music as a weapon to combat injustice, lives in a commune and owns a nightclub called The Shrine that he uses as a stage for his music and message. Live footage of gigs and documentary footage are alternated in this DVD. The production is superb and so are Femi's performances. Watching this DVD is the closest thing to actually witnessing Femi's world renowned live performance with his band The Positive Force. The documentary part is really interesting and gives us insight into the life of the current Afrobeat superstar. The DVD is 133 minutes long. The extras include the videos for Shotan, Water No Get Enemy and Yeparipa and more interviews with Femi. This DVD is an absolute must for all lovers of Afrobeat music. The only thing I regret is that the makers didn't include an option to skip the documentary parts if you only want to listen to the music.